Astrologers Fund Latest August Update
AUGUST DOWNTURN – WATCH THIS VIDEO UPDATE
We believe an August downturn is coming. The question many investors may soon ask is NOT "How high is UP?" but "How low and how long?".
While buying on dips has often been profitable in July, it will NO LONGER automatically be profitable for position traders i.e. August is here now
Going forward, economic activity caused by the pandemic will bottom out in the Third-Quarter GDP. This recovery, however, will be uneven & while a faster recovery than in the past, it will NOT be a super charged V. We see a U [or "skinny U"] US economic recovery but stock markets NOT V, L or U but W. Q4 US GDP will highly depend on US election outcome.
For Q3 we project 8-10+% market correction from Q2 2020 close.
RECOMMENDATION: 100% Protection until September.
2020 Market Close Target V1.2: SPX 3069 NASDAQ 9188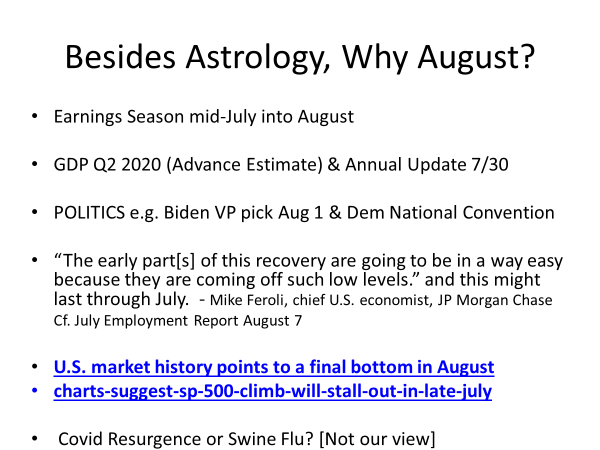 TRADING: Our approach is to enter early and exit early, lots of profit none-the-less.
We have a short basis for August: RISK 3300 SPX REWARD 2900-2850-
2020 Market Close/Trading Target V1.2: SPX 3069 NASDAQ 9188
For more details watch our Youtube post H2 2020 Market Update
Henry Weingarten – The Astrologers Fund, Inc. – 310 Lexington Avenue Suite 3G – New York, NY 10016
(212) 949 7275 Text/VM (646) 450-7275 -http://www.afund.com Twitter@tafund
DISCLAIMER: PAST RESULTS ARE NOT NECESSARILY INDICATIVE OF FUTURE FORECASTING ACCURACY OR PROFITABLE TRADING RESULTS.The Astrologers Fund Inc. Accepts No Liability Whatsoever For Any Loss Arising From Any Use Of Its Report Or It's Contents.The Astrologers Fund Inc. Or Its Clients Usually Holds Positions in the Stocks and/or Market Instruments Mentioned And May Buy Or Sell At Any Time Without Notice depending on market conditions and personal financial conditions.This Information Is In No Way A Representation To Buy Or Sell Securities, Bonds, Options Or Futures. This information is not intended to be used as the sole basis of any investment decisions, nor should it be construed as advice designed to meet the investment needs of any particular investor.
ALWAYS CHECK WITH YOUR LICENSED FINANCIAL PLANNER OR BROKER BEFORE BUYING OR SELLING ON THE RECOMMENDATIONS OF THE ASTROLOGERS FUND INC.P Consider the environment. Please don't print this e-mail unless you need to.
HTML clipboard Neither PSN nor its owners, members, officers, directors, partners, consultants, nor anyone involved in the publication of this website, is a registered investment adviser or broker-dealer or associated person with a registered investment adviser or broker-dealer and none of the foregoing make any recommendation that the purchase or sale of securities of any company profiled in the PSN website is suitable or advisable for any person or that an investment or transaction in such securities will be profitable. The information contained in the PSN website is not intended to be, and shall not constitute, an offer to sell nor the solicitation of any offer to buy any security. The information presented in the PSN website is provided for informational purposes only and is not to be treated as advice or a recommendation to make any specific investment. Please consult with an independent investment adviser and qualified investment professional before making an investment decision.