Breakout Stocks Corona Virus Stocks Quote
NIKOLA CORP – NKLA NASDAQ – STOCK SOARS ON PANIC SHORT COVERING
CBD Inhaler – Research Report Says Buy $2.30 Target – RTSL OTC
This electric truck maker is in play . The forces of good and evil are tugging at the strings. Which way it swings is everybody's guess . We say BUY

Change the world with zero emissions trucks with its electric motors run on a battery or a hydrogen to electric fuel cell. Hydrogen cell trucks can run 24-7 unlike pure electric battery trucks needing up to 12 hours to recharge. The trucking industry is the 2d largest polluter in the world .

Nikola's Badge ( See Pic Below ) to be introduced shortly and competing with the Ford F -150 . This all electric hydrogen fuel cell vehicle is on the job in the workplace offering an unlimited supply of power to run saws and other electric tools while having a 600 mile range per fill-up.

Although there is a huge short position, this is a bet on the future , a bet on latest technologies implemented on a large scale . Tesla – Space X and now Nikola are taking that great step forward ., why shouldnt you. OUR TAKE :, place these shares on you BUY LIST and buy on dips . Let the short sellers propel your shares into space and beyond .

CNBC Interview
Crowd Funding Opportunities – Invest With The Best
Green Tech Drives These Shares Higher- 90 Day Triple
THE SHORT CASE
Summary
The short sellers are focused on Nikola's stock with an insanely high cost to borrow shares.
Options traders are making bets the stock plunges too.
The future may be too far down the road.
The short-sellers are circling Nikola's (NKLA) stock and they seem ready to pounce on this one. The cost to borrow shares to go short is at crazy levels that seem hard to believe. Meanwhile, the options traders are betting the stock falls in the days ahead.
Insane Valuation
The stock currently has a market cap of $28.77 billion, which seems very high for a company that has no revenue and isn't expected to have a meaningful revenue stream until 2023. It gives the company a market cap on par with Ford's (F), which stands at $28.8 billion.

THE BADGER UTILITY TRUCK
The company's presentation from March shows that they project revenue of $3.2 billion in the year 2024. That means the company is currently trading for 8.9 times four-year forward sales, an insanely high valuation. Sure, Tesla (TSLA) traded at some crazy valuations, like 24 times sales in 2012, but that wasn't for forward sales projections.

Short Sellers Are Circling
It is likely the reason it cost the short seller about 350% on an annualized basis to borrow shares of Nikola, to use to then go short. It is an extremely high rate to pay to borrow shares of any stock. For exampe it means that the stock has limited supply and a lot of demand from traders to borrow the shares to then likely go short the stock, a bet the stock falls.
Technical Take
The technical chart, in the short term, shows a bearish pattern forming known as a descending triangle. It suggests a potential drop in the stock back to around $57, should it fall below support at $72.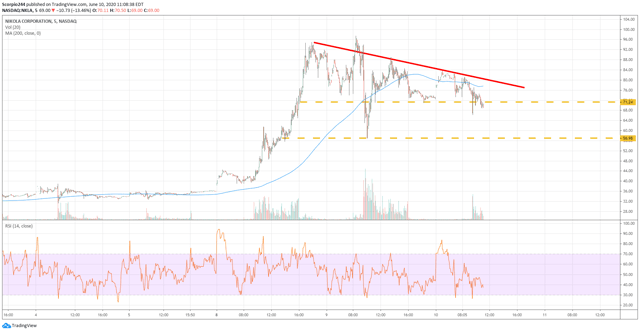 Risks
However, should the stock manage to hold support around $72, it could result in the shares surging back to their recent highs. Outside of the technicals, this is a very volatile market, that seems to be driven by a strong underlying bullish tone, whether it deserves to be or not, driven by low rates and easy money.
It seems that short sellers, the options traders, are thinking on the same page here, and that could spell trouble for this high-flying stock.
From Seeking Alpha
Neither PSN nor its owners, members, officers, directors, partners, consultants, nor anyone involved in the publication of this website, is a registered investment adviser or broker-dealer or associated person with a registered investment adviser or broker-dealer and none of the foregoing make any recommendation that the purchase or sale of securities of any company profiled in the PSN website is suitable or advisable for any person or that an investment or transaction in such securities will be profitable. The information contained in the PSN website is not intended to be, and shall not constitute, an offer to sell nor the solicitation of any offer to buy any security. The information presented in the PSN website is provided for informational purposes only and is not to be treated as advice or a recommendation to make any specific investment. Please consult with an independent investment adviser and qualified investment professional before making an investment decision.